Je me suis dis qu'il serais bien de commencer l'année 2014 en parlais de l'un des plus grand phénomène dans le monde du jeu vidéo au Japon qu'il y a eu en 2013.

A moins d'être un hardcore gamer otaku de la culture japonaise..... il y a de forte chance que vous ne connaissiez pas justement ce phénomène qu'il y a eu en cours pendant toute l'année 2013.

L'une des grande raison majeur est que ce jeu est exclusif a la population japonaise pour l'instant.

La certain d'entre vous êtes en train de vous dire.... bah je sais tout ce qui se passe dans le monde du jeu vidéo car je suis tout ce qui ce passe dans les convention, les E3, les programme télé geek sur le gaming, les article dans des revues...ect.....

Eh bien désoler de vous le dire, mais c'est justement l'une des raisons pourquoi nous n'en entendons pas parler ici en amérique parce que ce jeu n'est pas discuté dans c'est genre de place....

La raison majeur est parce que c'est un jeu web gratuit (un jeu de browser que l'on appel en anglais) qui fais une méga grande fureur au Japon.  Donc ce n'est pas un jeu de console ou de compagnie de gaming super connu dans le monde de la vente.

Bref, ce jeu s'appel Kantai Collection..... a.k.a Kan Colle.

On ne sais pas trop pourquoi ce jeu est devenu suuuuuuuuuuuper méga populaire au Japon, mais la particularité de ce jeu est qu'il y figure des ''anime girl'' représentant des bateaux de guerre!!




De quoi a faire la série de manga/anime Girl Und Panzer retourner dans leur tombe hein!!!!

Maintenant détrompez vous.... il y a aucune fille dans le jeu que l'on joue avec réellement.

Kantai Collection est un jeu de combat naval entre joueurs sur le web utilisant des bateaux historique japonais de la 2e guerre mondiale.

Un jeu que j'ai connue qui est un exemple très comparable serais Travian pour ceux qui on déjà connue.

Qu'elle est le rapport des anime girl?? ce que chaque bateau on des fiches personnel de ''stat'' et des fiche historique....genre comme une encyclopédie et que les bateau sont associé a une image d'anime girl.

Le concept du jeu n'est rien de nouveau.... depuis plusieurs année ce genre de jeu web existe.... Travian en est un exemple dont on est un petit village d'un ancien peuple européen (gaulois, romain, breton, ect)..... d'autre jeu divers ou on joue un magicien a la tête d'une royaume ou un pirate a la tête d'une flotte de bateau dans les caraibe ou un entrepreneur a la tête d'une empire économique.... ect ect ect... il en existe des tonnes de ce genre de jeu.

Le principe on tous la même mécanique, ramasser des ressources, augmenter vos installation et votre ''force'' affronter ou faire du marchandage avec les autre joueurs du net.......  le tout fonctionnant sur un temps de recharge en temps réel.  (construire un truc vous prendra 3 jours en temps réel pour être terminer en exemple ou votre attaque arrivera chez l'adversaire dans 5 jours en temps réel)

C'est un jeu aussi qui n'a jamais jamais de fin.... vous pouvez gagné en puissance...perdre en puissance..... vous ne pouvez jamais réellement être le victorieux ou être éliminé..... la seule satisfaction compétitive que vous pouvez avoir c'est votre place au ''classement'' sur le serveur.
Honestly, it was the last game I thought I'd find myself hooked on, but

Kantai Collection

(

艦隊これくしょん

) or, as it's better known online,

Kan Colle

(艦これ), has me seeing warships as cute anime girls... I think I need to explain myself.

Expand

Released this past April by DMM.com and Kadokawa Games,

Kan Colle

is a free to play "Next Generation Fleet Girls Tactical Browser Game" where you collect various ships, assemble fleets, and send them on missions to gain experience points. The twist is that all the ships aren't ships. They're "Fleet-Girls" or

Kanmusu

(艦むす): Anthropomorphic warships.

Expand

By using real-life World War II ships as models for the Fleet Girls and cutesy anime-girl character designs,

Kan Colle

seemed to be playing on the fandoms of two types of Japanese geeks; the military otaku and anime otaku. It felt like pandering at first. But watching my friends on my private twitter feed starting to obsessively talk about the game one by one, I had to see what the hubbub was about.

Expand

As it turns out, the game is far more engrossing than I had initially expected. Being a browser-based game where most of the combat is automated, I didn't think it would amount to much. But, it turns out, one of the game's biggest benefits is actually in much of its automation and how activities like building and repairing take real time to complete. It allows you to run the game in the background while you do other things and keeps you checking in every now and then for whatever manual micromanagement you want to do.

It's the perfect game for anyone who finds themselves at a computer for long periods of time (i.e. almost everybody). Now, I find myself selecting my browser tab whenever I can to see if my second and third fleets have returned from their missions, being constantly irritated that my resources don't replenish fast enough.

Expand

One of the main selling points of the game, the Fleet Girls, add to the game's appeal by being based on real-life World War II-era vessels. Every Fleet Girl has an individual bio where you can learn a little bit about the actual ship. The character designs give the ships personality and makes you interested in actually finding out more about the real ships' history.

Expand

The game has spread like wildfire and already in the past month alone the administrators have been forced add two new servers to handle the rush of new players signing up. It's also led to an increase of naval military-related tweets online, some of which apparently are being mistaken for right-wing propaganda...

"Some kid on the internet was saying 'an aircraft carrier may be necessary soon.' I felt fear at someone advocating a return to pre-WWII mentality with the lightheartedness of buying a popsicle. I'm worried about Japan's shift to the right. Please do something." -50 year old housewife on Yahoo! Answers

As I write this article, my

Kongō class battleship

and

Shōhō class light aircraft carrier

are undergoing repairs. It'll be another hour before I can send them back out to the high seas. Don't sink my anime girl battleship, game.

Expand

Note: While it is never stated in the game, it may be worth noting that due to the nature of the era that the ships in the game come from, the enemies encountered – while depicted as almost alien – are most likely Allied forces.
Bref, c'est un jeu intéressant si vous êtes un vrai fans de 2e guerre mondial de combat naval et que les bateau historique japonais vous intéresse....  c'est un jeu qui surement piquera votre enthousiasme.

Ce qui fais surtout la grande renommer en 2013 de ce jeu est la frénésie non attendu des joueurs et des otaku a y jouer.  La compagnie n'ayant pas prévu une tel popularité, les administrateurs on eu de la difficulté a gérer les serveurs et a fallu restreindre le nombre d'adhérent après les premier mois pour éviter le crash majeur.

Pour compiler a la demande, les serveur on passé de 4 a 15 durant l'année et l'option ''d'invité un ami'' fut bloquer après quelques mois et n'est toujours pas revenu en fonction en se moment.... limitant aussi un certain nombre de nouvelle inscription disponible par jour alors mieux vaux se lever tot si vous voulez y jouer.

On considère Kan Colle un phénomène extraordinaire et un succès comme ''jeu web'' surtout avec son nombre de joueur qui est au dela de 150 000 en Juillet passé et présentement au delà de 1 400 000 a la fin de 2013.  (un jeu de browser est considérer une réussite au Japon s'il atteint 20 000!!!!!)

Pour montré a qu'elle point une vrai vague d'engoument de ce jeu est au Japon, il suffi de voir tout les produit dériver et les ''extra'' qui on été créé par la communauté otaku.


On parle de fans art, de vidéo amateur.... UNE TONNE de doushinji faite par des amateurs figurant les filles de Kan Colle....

Cette année au Comiket 85 de cette hivers en 2013..... plus de 30% des entrée pour les kiosques était des comique non officiel de Kan Colle.... du jamais vue.

Juste pour vous dire que la compagnie de jeu vidéo qui gère Kantai Collection n'ont lancer aucun produit dériver de leur part et ne font aucune promotion monétaire, désirant garder tous ce qu'il fond gratuit.

Des tonnes de figurines faite par des compagnie qui on demander des droits pour en manufacturé on été fait dont entre autre des nendroid de good smile compagny.




Sans compter un nombre fou de cosplay.... et même une chanson non officiel fut lancer et admis dans tous les Karaoke du Japon.




Bref, Kan Colle ce trouve partout maintenant, des T-shirt, des hugging pillow, des peluche, ect ect.....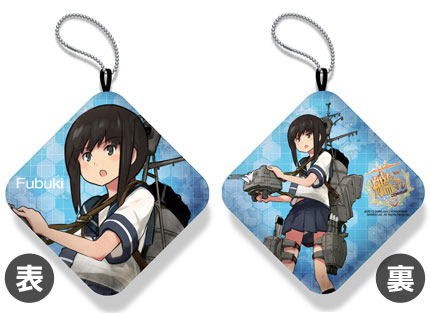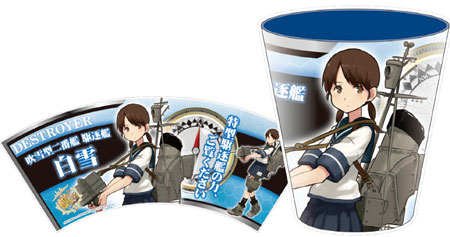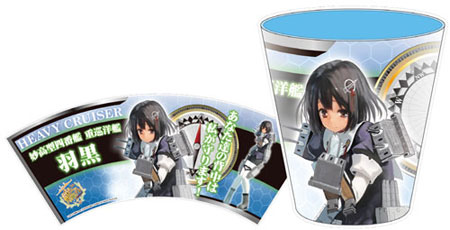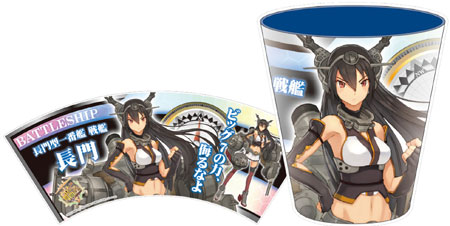 C'est un parapluie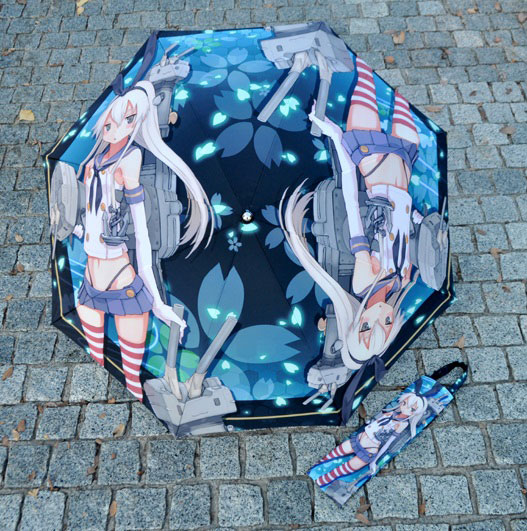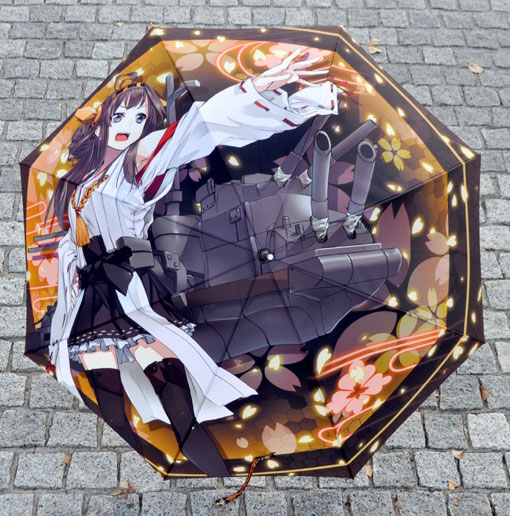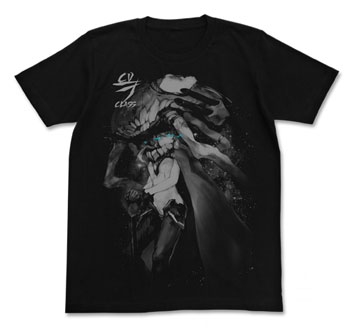 Un Doushinji très populaire parmis ceux qui on été fais sur Kan Colle (en dessous une image que je vous ai dénicher sur le web du cover du manga amateur)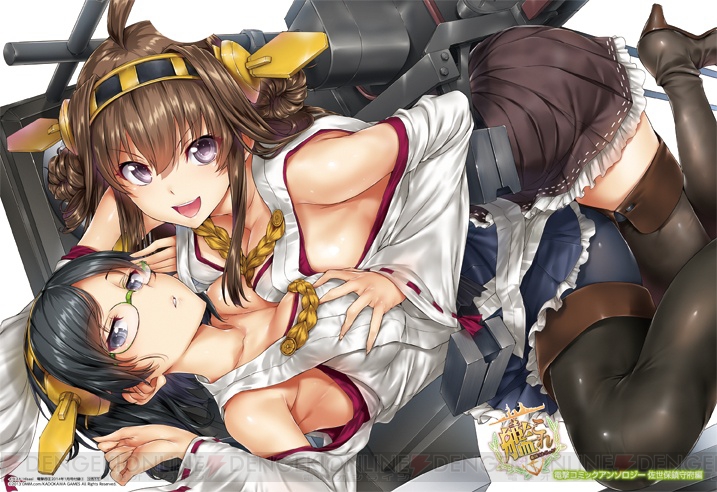 Un wall Scroll




Un case pour votre boite a kleenex!!! (pour les gars qui....eeeerr)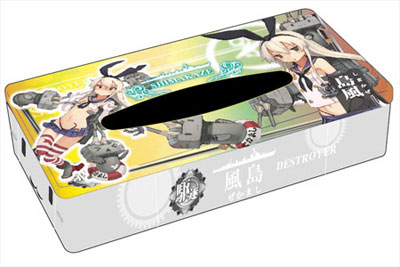 Un anime officiel a été annoncer il y a pas longtemps dont on devrais surement voir en 2014 et Sony a annoncer un jeu sur PS Vita dériver de Kantai Collection...... Kan Colle Kai.




Pour finir, Kantai Collection n'a fais que quitté le port d'attachement et on n'a pas fini d'en entendre parler, ce sera l'un des plus truc Otaku de 2014 surement dans le monde du gaming web et on espère peut-être que ce jeu sera disponible pour le reste de la population mondial.
Without a doubt, the biggest gaming phenomenon of Japan this year involved the game which had anime girls as battleships. It's too bad that most people outside of Japan can't play it.

When I first wrote about

Kantai Collection

(艦隊これくしょん) – aka

Kan Colle

(

艦これ

) – it was back in July and the game was proudly boasting over 150,000 registered users. Pretty respectable numbers for a browser-based game. Of course, such celebration may have been a little premature. At the last official count, over 1,400,000 people (including yours truly) have registered to play. (For reference, in Japan, a browser game can be considered "successful" if it has over 20,000 users)

Since April, when the game officially launched, its explosive spread quickly forced the administrators to close registrations and only allow for a limited number of new players each day – ostensibly rendering the "invite friend" button completely useless for the past 6 months. Where there used to be only 4 servers back in July, there are currently 15.

"As of December 26th, over 1,400,000 Kan Colle accounts have been registered. We believe the growth will eventually slow down, but so far the numbers continue to increase. Roughly 75% of the accounts are active users, of which currently 550,000 are daily active users (DAU). We would like to extend our gratitude to all the admirals who support us."

One might argue that, of games released in 2013,

Kan Colle

doesn't really hold the crown in terms of sales (

Pokemon X/Y

clocks in at 3.5 million units sold,

Monster Hunter 4

3.2 mil,

Puzzle & Dragons

boasts 22 million downloads), but as a gaming

phenomenon

, nothing else this year comes close.

As a game,

Kan Colle

is relatively simple. You start out with one destroyer-class fleet girl (aka Kan-musu, 艦娘) and quickly build or acquire more throughout your campaign. You send out your fleet (you can eventually have up to 4) onto the high seas to defeat enemy ghost ships. There are different classes and types of fleet girls, all of which you quickly become familiar with as you play. Every fleet girl is based on an actual historical WWII warship and the developers' love and knowledge of Japanese warships can be seen through the minute details in design.

Much of the game is luck-based – be it which fleet girl you draw, or the outcome of battle. While this can lend itself to lots of frustration, especially on the harder maps, it also makes the playing field relatively level for newer players. Even ships like Yamato, which are initially offered on a limited basis, are eventually accessible to everyone.

Thanks to the backing of publishing powerhouse, Kadokawa, there's no end of licenced goods. With multiple comics, a light novel series, a metric f**kton of merchandise, and an anime on the way, it's hard to argue with the popularity of this free-to-play browser game. There was also an official tie-in café that was open for a limited time.

Aside from the officially licensed stuff, there's also the fan-made side. Mountains of artwork and videos, cosplay and even a song that can now officially be sung at karaoke. Apparently, nearly

30%

of the indie comics registered for this year's Comic Market 85 (aka Comiket, Japan's biggest bi-annual indie comic convention) are all of the

Kan Colle

genre.

One of the benefits(?) of the popularity of the game has been the influx of people interested in WWII warship history. For example, I only learned that there was actually a second Yamato-class ship, Musashi, through playing the game (It's like how a lot of people don't know that the Titanic had 2 sister ships). This has also led to an increase in warship model sales – the normal kind. Not the

1/100 scale type

.

Kan Colle

is a free-to-play game with payment-based elements. This isn't a particularly unique model of game operation. What is unique is the fact that the administrators actively discourage players from paying for content. The game can be played to its fullest without paying for anything, and nothing is closed off behind a pay wall—except for maybe some convenience. 

Perhaps the only thing that is really worth spending any actual money on is expanding your repair docks, but even that is not entirely a necessity. The latest ship-building feature, the large-scale/new ship building, actually has a pop-up message that advises players to think economically about their resources and avoid paying for content.

"About The Large-Scale/New Ship Building System
The Large-Scale/New Ship Building system allows for the creation of large battleships and newly added ships. However, it requires large amounts of resources.
Resources replenish over time or can be acquired through expeditions. Please avoid purchasing resources and wait until you have accumulated enough to utilize what resources you can gain within the game."

Currently,

Kan Colle

is restricted to IP addresses accessing from within Japan. This means that the only way for people outside of Japan to play is via proxy – which many do. A more accessible PS Vita game,

Kan Colle Kai

, is scheduled for release next year, although no international release has been announced.

At its current rate,

Kan Colle

will probably surpass the 1.5 million and even possibly the 2 million registered user mark. Its popularity among the Japanese subculture also shows no signs of waning. If its luck holds, it could end up being the biggest phenomenon of 2014 as well.

Note:

For those of you who think they should somehow incorporate the ships from

Arpeggio of Blue Steel

... They already did.

Maintenant ne vous laissez pas emporter par la vague de Kan Colle et que vous vous dite....''ca l'air super cool comme jeu''  non sérieux.... googler sur Youtube << Kan Colle gameplay >> et vous aller voir plein de vidéo amateur faite par du monde qui montre leur ''gameplay'' et vous aller vous rendre compte que ce jeux est très très..... plate a regarder jouer.

C'est un jeu de stratégie baser sur du temps réel alors c'est le genre de truc que vous passez de temps en temps voir ce qui se passe comme si vous nourrisser votre animal...... si vous avez 10 min a attendre pendant votre trajet d'autobus... Kan Colle est le bon moyen de vous occuper.... ect.

L'autre point unique de ce jeu est de vous éducquer sur l'histoire du naval japonais a travers le temps.








Nombre de messages

: 2662


Age

: 38


Ville

: Rouyn-Noranda


Emploi/loisirs

: TI Réseau


Mon Top 3 Anime/manga

: il y en a trop et ca change tout le temps


Date d'inscription :

31/08/2012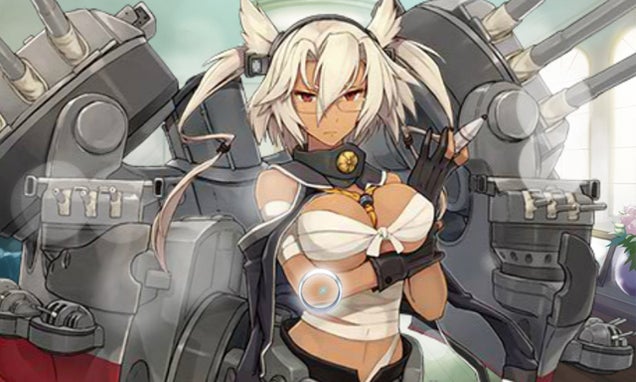 Cela fais déjà 1 an que Kantai Collection, a.k.a KanColle est sorti et devenu un phénomène national au Japon en matière de jeu PC web en ligne gratuit.

Le jeu continue a s'agrandir en ayant de plus en plus de contenue et d'extra.... comme des nouvelles quêtes pour des événements saisonnier.... ou bien de nouveau item obtenable, comme par exemple un contrat de mariage avec une bague qui fut implémenter en nouveauté lors du dernier St-Valentin 2013..... de nouvelle Map.... ect ect...

et même des nouveaux bateaux (a.k.a fleet girl)..... et justement pour célébré leur 1 an d'anniversaire, le jeu offre une panoplie d'extra.

Dans l'article que je viens de lire... notre chroniqueur nous parle justement de son expérience depuis tous ce temps sur le jeu et de son ''Mariage'' virtuel bien sur avec sa ''fleet girl'' préféré!!!

il explique l'avantage que cela donne (up de niveau, réduction de cout, ect) vous avez juste a lire l'article pour plus de détail.

Et bien que le jeu sois gratuit, il ne reste pas moins qu'il y a une tonne d'option et d'item qui sont achetable via la boutique en ligne du jeu pour améliorer votre partie. Ex: (le jeu vous offre qu'une seule fois un contrat de mariage comme objet... mais il est possible d'en acheter d'autre via la boutique et de marier d'autre ''fleet girl''.... aucun impact sur l'infidélité d'avoir plus d'une femme lol)

Eh ouais.... quand on est rendu a marier un bateau......  il est triste de réalisé comment otaku on est rendu....  FACT!!!

Le jeu est toujours uniquement possible d'y joué via une IP Japonaise (malgré qu'il y a des moyens de contourné cette restriction, juste a google sur le net pour avoir un guide sur comment faire)

peut-être qu'un jour le jeu sera ouvert pour d'autre serveur mondial.

Il y a toujours un jeu sur PS Vita de prévu et une série animé bientot cette année surement sur nos écrans.
Japan's biggest gaming phenomenon of 2013 has hit its 1 year mark, and to mark the occasion, I finally utilized one of the more recent added features to the game.

In one year, the Japanese browser game known as

Kantai Collection

(

艦隊これくしょん

) – aka

Kan Colle

(

艦これ

) – has amassed over 1.9 million users, or "admirals." To celebrate, the developers have overhauled the game's UI and added a temporary event map with added anime girl battleships – called "fleet girls" – and equipment items. I figured now is as good a time as any to make use of the "Marriage (virtual)" (ケッコンカッコカリ) system that had been added a couple of months ago as part of the Valentine's system update.

How the system works is that after completing a series of quests, players can obtain an item called "marriage papers & wedding ring." This item can be used on any level 99 fleet girl to marry (virtual) her. It sounds kinda corny, but "marrying (virtual)" a fleet girl unlocks the ability to level up beyond the level limit of 99 up to 150, as well as an added bonus to the fleet girl's durability and luck stats. Marrying (virtual) also decreases that fleet girl's fuel and ammunition consumption by 15% – a godsend for resource-guzzling battleships.

I'd obtained the marriage (virtual) item shortly after the last system update, but hadn't used it. Now, with the anniversary of the game rolling around, I decided to use it with my favorite battleship and a fleet girl that took me literally 13 straight hours of gameplay to obtain during last November's Fall event in the Iron Bottom Sound: the second Yamato-class battleship, Musashi.

So, yeah, I guess that's my waifu now.

The marriage (virtual) item is obtainable only once through standard gameplay, but multiple items can be purchased through the game store. It's a massive strategic advantage and there are no repercussions for infidelity, so if you're willing to pay, it is possible to simultaneously marry (virtual) multiple fleet girls.

Kan Colle

is currently only available for computers accessing via a Japanese IP address, although there are ways around this. A PS Vita version of the game and an anime adaptation are currently in the works.






Nombre de messages

: 2662


Age

: 38


Ville

: Rouyn-Noranda


Emploi/loisirs

: TI Réseau


Mon Top 3 Anime/manga

: il y en a trop et ca change tout le temps


Date d'inscription :

31/08/2012





Sujets similaires
---
Permission de ce forum:
Vous
ne pouvez pas
répondre aux sujets dans ce forum